The Riksmuseum has a wing, a relatievly new extension, devoted to Asian art. Currently they're showing a temporary exhibition of Japanese prints from the first half of the twentieth century, the Elise Wessels Collection.
There is a long tradition of woodblock print making in Japan, known as ukiyo-e, which translates as "pictures of the floating world", it flourished from the 17th century. Japanese prints had a strong influence on the Impressionists as well as Post-Impressionists including van Gogh. This exhibition featured prints from the 20th Century when there was a revival in print making with the established techniques applied to both contemporary and traditional subjects.
The exhibition website tells us
early twentieth century saw the emergence of two new artistic currents known as Shin hanga ('new prints') and Sōsaku hanga ('creative prints'). Artists within these two movements each applied traditional woodcutting techniques in their own specific ways. Shin hanga artists used time-honoured methods and pictorial content that dovetailed with Japan's centuries-old printmaking tradition, choosing subjects such as idealized female portraits and evocative landscape prints. Sōsaku hanga artists, by contrast, were avant-gardists with innovative ideas about the role of the artist and the creative process, whose subject matter revolved around the modern world, city life and industry.
One popular subject for traditional prints was the landscape. There were examples of the techniques used to depict modern scenes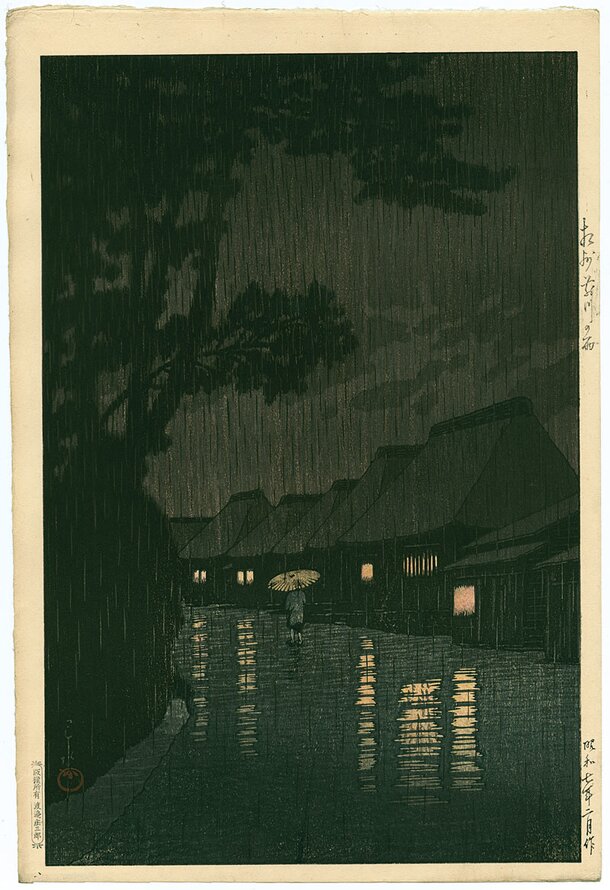 One important strand in tradional ukiyo-e were prints of idealised, beautiful women. This was continued in the 20th Century – no doubt because they continued to be popular subjects for collectors. There were many examples in the exhibition
with some more contemporary approaches
and this one clearly influenced by European Art Nouveau
with some traditional style prints in more contemporary poses
and a modern take on the erotic pictures that were popular with a particular type of collector
Besides the prints, the exhibition features kimonos
lacquerware and posters, on loan from the National Museum of Modern Art in Tokyo.